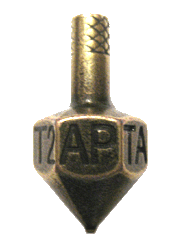 Put and Take based on Jewish dreidel
The basic game comes from the traditional Jewish dreidel game, but has been expanded from 4 sides to six and turned into a gambling game.
Put and Take once a popular bar game
Put and Take became popular in Victorian England as a pub game and is still more known in the United Kingdom then here in the United States.
Put and Take played in World War I & II
It is believed that British soldiers would play versions of Put and Take, by making a top out of bullets or bullet casings to occupy their time in the trenches with various games of chance for money, cigarettes or food rations.
Put and Take making a comeback today
Today, Put and Take is having a revival in popularity. Be the first of your friends to introduce them to this classic game - with all the excitement of a high stakes casino game.
What do you think?
Send us a note
and tell us how you learned to play and what you call the game.
Go here to see the different names
we have discovered for Put and Take.
Get a Put-n-Take Betting Game for only $14.50


Buy in bulk and get a discount!
Looking for a business opportunity? Why not sell Put-n-Take games? Click here to learn more about becoming a reseller