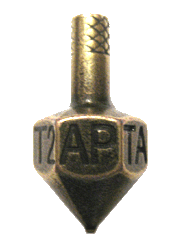 THANKS!
I searched everywhere for this game! It looks and plays great - finally my friends and I can spin and drink like the good 'ol days before I lost my top!

- Brad, Kansas City
Put and Take - you'll take it everywhere!
Our brass spinning top is the perfect betting game to play with friends and family while you are sitting around at home or drinking at the bar. After just a few spins you will feel like you are playing in a high stakes craps game. The excitement builds with each spin - even if you are only passing a few bucks back and forth among friends. Small enough to fit in your pocket you can take the fun with you wherever you go!
Simple game provides hours of fun
Here is how the Put and Take game is played:
Every one antes into the pot, then you take turns spinning the top and following the directions for the side it lands on.
"P" stands for Put
- meaning you put or pay into the pot.
"T" stands for Take
- meaning you take or get paid from the pot. The numbers tell you how many to Put or Take.
"AP" stands for All Pay
- meaning all the players must put into the pot. And the one everyone is hoping to get when they spin is the
"TA" which stands for Take All
- meaning you win the whole pot! After someone wins the pot, everyone antes back up and the top gets passed to the next player to spin.
Easy right?
Don't let how easy it is fool you - because you will not believe how much fun it is to play. Of course that is the basic rules - but there are many ways to change the way the game is played and what is going into the pot -
check out game variations
Get a Put-n-Take Betting Game for only $14.50


Buy in bulk and get a discount!
Looking for a business opportunity? Why not sell Put-n-Take games? Click here to learn more about becoming a reseller